Expertise like no other.
Unrivaled expertise and independence.
Loyal advisors you can trust.

Measurable Value.

These are the hallmarks of rPM³ Solutions' advisory services. No matter what the risk management issue or concern, we have the subject matter expert and the supporting technology you need to get the job done right and drive measurable value for your stakeholders.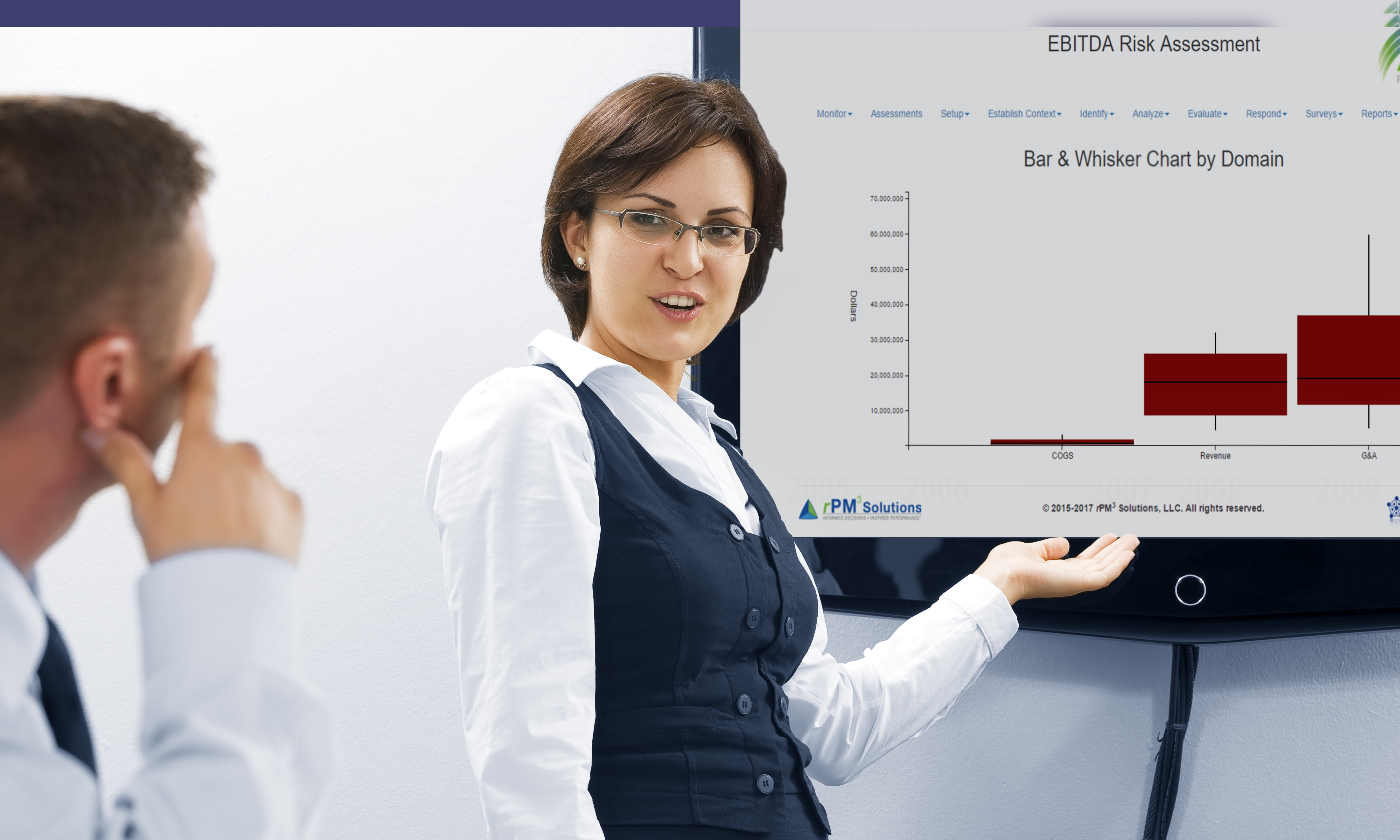 ENTERPRISE RISK MANAGEMENT
A perspective like no other. Our ERM experts deliver solutions that look to measurably link your risks with Strategy and performance. Our decades of experience give us a realistic perspective that quality ERM programs (ones that create value) must be tailor fit to each organization. Therefore, our consultants are well versed in each of the ERM standards, understand the virtues of each and have hands-on experience, so that the ERM program developed for our customers will be the right fit and generate the greatest value. We can support engagements on any of the following ERM topics and projects:
ERM Development & Implementation;
OMB A-123 (US Fed Gov't);
Strategic Integration & Strategy Formation;
Enterprise Cost of Risk Analysis (using our patented ARQ Technology™);
ERM Program Review & Audit;
ERM Training;
Risk Assessment;
Quantitative Risk Analysis;
ERM Governance;
Risk Taxonomy & Architecture;
Risk Appetite & Tolerance;
Key Risk Analysis;
Risk Response Planning;
Risk Monitoring; and
Key Risk Indicators (KRIs).
OPERATIONAL RISK MANAGEMENT
Going beyond compliance. rPM³'s team of experts and partners have extensive experience in designing, implementing and bench-marking operational risk frameworks and processes. We can support engagements on the following operational risk topics:
Risk Control Library Development;
RCSA;
Emerging Operational Risk Analysis;
Operational Risk Appetite;
Scenario Analysis;
Control Testing/Assurance;
Risk Reports & Dashboards;
Incident Management;
Issues & Remediation Management; and
Key Risk Indicators (KRIs).
Our methods look at the drivers of operational risk and how managing these can improve your business performance. We bring unrivaled experience to your program that will enable your operational risk program to contribute to the value creation and value protection objectives of your organization.
CYBER SECURITY RISK MANAGEMENT
Peace of mind. Our Cyber Security experts deliver on a promise of assurance and balance. They provide solutions that dig into your risks so that your efforts match your exposure – optimizing mitigation costs. Certified and experienced in virtually every standard, our experts can support you with any compliance challenge you might face. We can support engagements on any of the following Cyber Risk and Cyber Security topics and projects:
Quantitative Exposure Analysis;
Cyber Security Architecture;
Security Management;
Cyber Compliance – e.g. FISMA, PCI DSS, CMMC;
Governance Management – IT/IT Security controls, policies and procedures;
IT Contingency and Disaster Planning and Management;
Cloud Security.
OTHER RISK MANAGEMENT
Key risks and asset protection. In Risk Management we can never "take our eye off the ball". That's why rPM³'s experts and partners are experienced and uniquely talented to perform the "deep dive" into your key risks and exposures to assure your controls, mitigation strategies, insurance and risk financing provide you with the most cost effective results. We give you the independent look and perspective that insurance brokers can't provide with hands-on expertise into exposure analysis, insurance coverage, business continuity and more.
Diagnostic Insurance Coverage Review;
Loss Control;
Quantitative Exposure Analysis;
Claims Review and Analysis;
Security Management;
Quality Improvement;
Compliance & Governance Management;
Crisis Management; and
Business Continuity Planning and Management.
Meet Our Lead Consultants
Our consultants have decades of experience going back to the origins of ERM and have hands-on, practical knowledge of all of the other modern risk management processes. They are ready to walk along side you and your organization and deliver a solution that is right for you.
Gary Bierc
ERM & Other Risk Management
An early pioneer, Gary is a recognized thought-leader and subject matter expert in ERM dating back to the mid-1990's. A veteran senior executive, he is a former CRO for Moore Business Forms. A polished financial analyst, strategist and a career risk manager, Gary holds a patent in the business method for determining the cost of risk across an enterprise.
Kelland Sewell
ERM & Other Risk Management
Joining forces with rPM3 in 2016, Kelland was previously the Manager of Risk and Policy for Quiiliq Energy Corporation. He brings a wide range of experience to the risk arena having worked in the areas of Finance, Operations, Engineering, Corporate Services and Retail. As a risk practitioner he has ground floor knowledge of what it takes to implement an ERM Program.
Ken Fletcher
ERM (Gov't Agencies)
A seasoned Federal ERM thought-leader and subject matter expert, Ken is a retired federal executive and CRO for the Transportation Security Administration (TSA). He is also an adjunct faculty member at George Mason University in their CRO Program, the President Elect of AFERM, and co-editor and a contributing author of a book on Public Sector ERM.
Tiago Martins
Quality, Compliance & Governance Management
Tiago is a seasoned Industrial Engineer with his roots in the Brazilian Oil and Gas Industry. He specializes in Business Management, Quality Improvement, Compliance Risks, Governance, Certification and Regulation. Tiago is recognized as an expert in development of new certification programs and processes, which are deeply innovative and include strong effectiveness characteristics. He is one of the key leaders behind the development of recent and innovative certification models in Compliance, Governance and Diversity in Brazil.
Manoj Kulwal
Operational Risk Management
Manoj is passionate about utilizing risk management as a business management tool for designing effective business strategies. He has been involved in the development of the international risk management standards "ISO 31000" and the "Certificate of Operational Risk Management" offered by The Institute of Operational Risk. His experise has benefited many global financial services firms, including the training of 1,000+ employees in OpRisk.
Frank Strenk
Enterprise Risk Management
Frank is the founder and principal advisor for Cypress Risk Advisors. Previously, he led Lockton's ERM consulting practice where he provided consultative advice to clients in the areas of risk strategy development and Enterprise Risk Management. Frank's approach is to design risk management strategies that are aligned with and supportive of clients' corporate goals and objectives. Frank also assists clients in implementing Enterprise Risk Management processes that are fitted to the company's corporate culture, while adhering to ERM best practices.
Brett Osborne
Cyber Risk & Info Security Management
Brett is an expert both in cyber security, as well as risk management. He has led various professional organizations and has supported a wide range of organizations including several US Federal organizations as well as several US Department of Defense organizations and programs. His security expertise extends across a wide range of security frameworks, such as FISMA/NIST Special Publication 800-53, NIST Special Publication 800-171 (government contractors), Cybersecurity Maturity Model Certification (DoD contractors), PCI DSS (Financial), and cloud security.
Choose an Engagement Plan
High-Performance organizations continually evaluate performance and results. rPM³ Solutions provides a comprehensive suite of options to maximize the value of your investment by being committed to your success and available when needed.
GET STARTED

with our BASIC ADVISORY SERVICES PACKAGE
rate-BASED
Negotiated
per Hour or per Day
$1,000 monthly minimum
Billed in arrears
Minimum 6 month contract
90 day cancellation
Travel-related expenses billed separately
GET A QUOTE
basic
GET STARTED
per Month
Rolling 90 day engagement
1 onsite visit per month
Other work billed separately
Unlimited telephone consultation
Term negotiable
Travel-related expenses billed separately
Get Started
FIXED PRICE
Negotiated
per Project
Payment method negotiable
Priced based on Statement of Work
Termination only for cause
Travel-related expenses billed separately
GET A QUOTE
GET A QUOTE
Let's disuss your needs or project and it would be our pleasure to give you a quote for a solution that would be the best fit for your budget and timeline.